Looking for fun crafts and activities to do with your kids this Fall? Popsicle stick crafts and engineering projects are the answer! Read on for some fantastic ideas to STICK it to boredom.
Gobbling Fun
Gobble up some fun with these friendly popsicle stick turkeys. Use sticks for the body and feet and construction paper for the face, head, and feathers. Source
Stuffed of Fun
This scarecrow project will stuff your afternoon full of creativity and fun. Use permanent marker, wiggly eyes, and craft paper for the hat and hair. Candy corn makes a cute nose and a perfect treat to snack on. Scare up some more details from Activated Nest.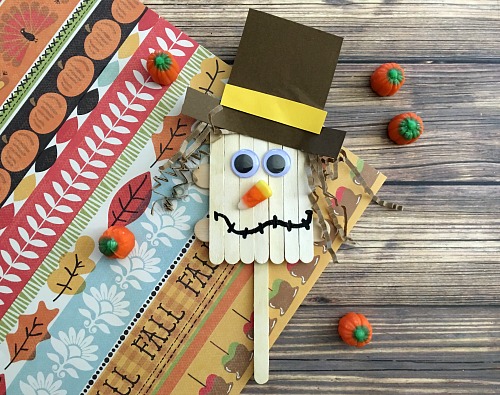 Jack Be Nimble
Jack be nimble. Jack be quick. Jack jump over the candlestick crafting-stick. These cute Jack-O-Lantern popsicle stick crafts are great for more Halloween fun after you've already carved your real frightful gourds. See the original ideas and more here.
Caught Up In Fun
These popsicle stick spider webs will have your kids all caught up in fun. Simply paint popsicle sticks black, orange, and white before winding yarn of the same colors around the sticks to make spider webs worthy of the best eight-legged arachnids. Source.
Boo To You
Boo to you with this ghostly view. Buttons and wiggly eyes bring these haunted apparitions to life using eight black popsicle sticks to frame out a window. Orange paper is used as a background to make the white ghosts pop into sight. Take a peek at The Pinterested Parent for more information.
A House of Sticks
Even the Big Bad Wold will agree that this house of sticks will scare up some Halloween fun! Older children in particular will really enjoy putting their engineering skills to use with this one. Source.
H Is For Haunted House
If younger kids are too little to build a 3D popsicle house with their older siblings, this alphabet inspired haunted house is a boo-tastic solution. What other house designs will they be able to spook up? Source.
Picture Perfect
For a non-holiday Fall project, this popsicle stick schoolhouse frame is picture perfect! What an educated idea for sharing all your kids' best back-to-school photos. Get schooled on the project here.
He's Alive!
This Frankenstein popsicle craft is electrifyingly amusing. What a perfect way to shock some fun into this Halloween season! Source.
Something To Crow About
This happy scarecrow craft is something to crow about. The body is made almost entire of popsicle sticks while the head and hat are made of paper, straw, and wiggly eyes. Source.
R.I.P
Rest In Popsicle with this creative haunted graveyard project. Paint small popsicle sticks black and wrap them with thin wire to make the fence. Dig up some more info from Lil Blue Boo.
Up It With Puppets
Up the fun with these simple Halloween puppets. Use different colors of paint, wiggly eyes, sharpie, pipe cleaner, and more to create your spooky starring cast. Source.
Popsicle Pilgrims
Teach your kids about the Mayflower Voyage and First Thanksgiving before making these cute popsicle Pilgrims. Source.
Look No Feather
Here's another turkey craft to help you count your blessings. After making a body and head from craft paper, use colorful popsicle sticks to make a full tail of feathers. Write one thing you're grateful for on each feather to celebrate Thanksgiving in true holiday spirit. Cluck out the idea from Preschool Alphabet.