Book Basket
Of course I start with a book basket! Get your children caught up in the magic of Christmas by sharing all your favorite holiday books in their very own basket. Idea source.
Movie Night
Make it a cozy movie night at home with this holiday gift box. Your kids will love opening their favorite holiday movie, complete with a new pair of pajamas and favorite treats. Perfect for a snowy night at home! Idea source.
Advent in A Basket
Advent calendars are a favorite tradition in my home. Make your own "advent in a basket" by stuffing these adorable bags with all sorts of holiday cheer. Your kids will love the little surprises throughout the month! Find the bags here.
Baker's Basket
Baking is such a wonderful way to spend time together during the holidays. I love sharing my mom's secret recipes and baking tips with my children. They love hearing stories from my childhood. Continue these traditions and support the little baker in your family with a baker's Christmas gift basket. Via.
Coke & Cocoa
Bring all of Santa's favorite drinks into one gift basket for the soda sipper in your family. Combine glass bottles of Coca Cola with little mixers of cocoa and marshmallows. Candy canes and evergreens pull the whole gift together. Get more details here.
Gingerbread House Kit
Another favorite tradition we have in our home is decorating gingerbread houses. My little Lego enthusiasts have so much fun using their engineering skills to come up with some pretty unique house designs. But decorating is always our favorite part! Rather than buying a generic store-bought gingerbread house kit this year, surprise your kids with a DIY basket instead. Via.
Snowman in A Basket
Help your kids be all set to bring Frosty to life again this year with a ready-to-go snowman building kit. Just add water for hours of wintertime fun! Source.
Winter Cold Survival Kit
Help your little one get the better of those pesky flu symptoms with a winter cold survival kit. Get all the details from The DIY Mommy.
Elf On the Shelf In A Basket
Haven't started the Elf on the Shelf tradition yet? Or maybe it's just time to add some new fun ways to share in this cute holiday tradition? Here's your chance! Your kids will be absolutely delighted with an Elf on the Shelf gift basket this Christmas! Find this kit from The Dating Divas.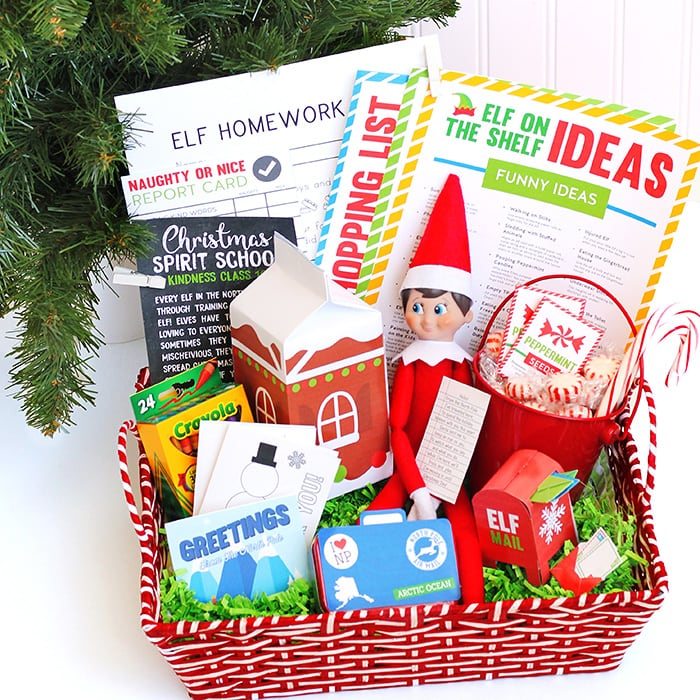 Lego Advent Basket
Lego advent calendars are an absolute MUST in our home! We're even guilty of buying one of each version because we love them so much! Have even more more fun building some unique kits with this Lego advent calendar basket. Source.
Activity Gift Basket
Keep your kids happily occupied with an activity gift basket while Santa and Mrs. Claus are busy wrapping presents in the other room. Pile in holiday coloring books, art supplies, toys, and treats to bring it all together. See the idea here.
Ice Cream Sundae Gift Box
It might be cold outside but it's never too cold for ice cream! Put in everything you'd need to make the perfect ice cream sundaes. My favorite part is the topping-filled ball ornaments! Get more info here.