I totally get that throws and couch pillows are just that… pillows.  They have stuffing in them, they're on the couch, so why not use them for resting your head?  It makes sense until you become the one who carefully takes the time to find or make the pillows and then watches as they become flattened, wilty, masses of fabric that no longer add charm to your home decor.  My biggest struggle is when my boys sit on the pillows to play video games.  I knew I had to learn how to make a pillow bed for them!
When I came across a DIY project for making a pillow bed, I knew I had found my pillow-saving solution. I made one for each of my boys using their choice of fabric. They get them out every time they play video games, when we have game night or movie night, or just when they're hanging out between school, soccer, and every other thing they have going on. We love our pillow beds! I've also made a couple for my classroom for our reading nook (Teachers would LOVE to receive a pillow bed as a gift!) If you're ready to make one too, here's how to make a pillow bed for your kids (and you too!).
How To Make A Pillow Bed
Materials
Normally I'm fairly picky-choosy when it comes to fabrics for sewing projects, but I let my boys have total freedom (okay, ALMOST total) for this DIY. I always walk out of Joann's pretty happy with their selection of fabrics. However, if you've not yet discovered the awesomeness of fabric.com, now is your chance! My boys had SO much fun picking out their favorite Star Wars and soccer prints. Here's what you'll need for the pillow bed:
– 2.25 yards flannel material in pattern 1 and 2.25 yards flannel material in pattern 2. OR, you can opt for 4.5 yards of ONE flannel material for pattern 1 AND 2.
– Sewing machine and thread
– Sharp scissors or rotary cutter
– Pins
– Measuring tape
– Pencil or water soluble marker
– 4 bed pillows
Directions
Step 1
Use scissors or a rotary cutting tool (use this Pickled Barrel article to help you work with one) to cut both pieces of flannel to measure 34.5″ X 75″.
Step 2
Match the two flannel pieces together with their right sides facing in. Pin around each side EXCEPT for one long side (3 of the 4 sides will be pinned).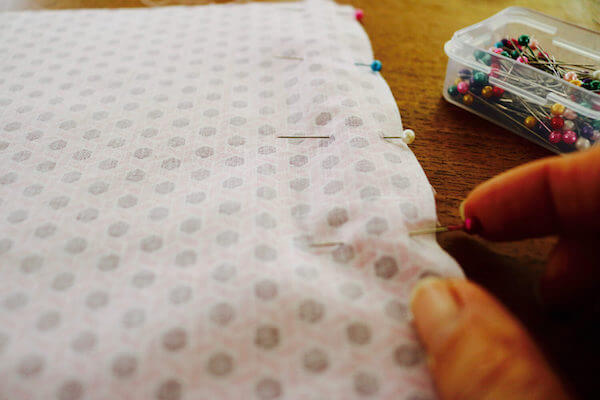 Step 3
Sew the three pinned sides together, making sure to leave a 1/2″ seam.
Step 4
Trim the stitched corners off with scissors. Be sure not to get too close to the stitching!
Step 5
With the long side that has not yet been sewn, fold the material over twice and pin so you have about a 1/2″ seam. Sew the edge of the 1/2″ seam using your machine. Do NOT sew the two sides together! Turn right side out after the last edge has been stitched.
Step 6
Using a measuring tape and starting at either of the short ends, mark a line every 18.5″ until you reach the opposite short end. This will divide your fabric into 4 equal sections. Stitch along each marked line with the sewing machine to make the 4 pillow pockets.
Step 7
Stuff each of the 4 pockets with pillows and ENJOY!! Don't have 4 spare pillows? Check out Amazon for some very affordable options.
Find more crafts at Half Pint Peeps:
10 Paper Plate Christmas Crafts for Kids
Cute Egg Carton Crafts for Kids
Find Fabrics, Supplies, and Ideas From:
Bed in a Bag Star Pattern for sale on Great Little Trading Co.
Fabric sold at Joann's
Quality Fabric, Patterns, Craft/Sewing Supplies and more sold on Fabric.com
Pillows Sold On Amazon