For as much joy as it is to raise a child (or two or five), we all know that it isn't easy.  I don't know about you, but I'll take all the helpful tips I can get!  Here are 10 life changing hacks for toddlers and kids.
Right Foot, Left Foot
Help your child know which shoe to put on which foot with this sticky hack.  Cut a large sticker in half and place the right and left halves in the appropriate shoe.  I have some 3rd grader students who could benefit from this idea!
Morning Rush Calm
Change your mornings from a morning rush to a morning calm by packing the night before.  Have your kids put all their completed homework, lunch, and other school necessities in their bag and by the door.  Goodbye, crazy mornings!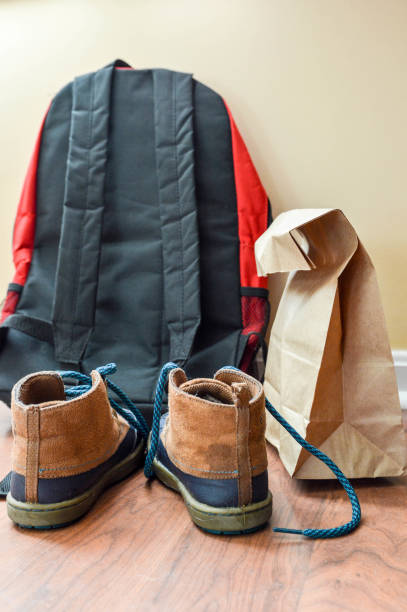 Daily Organizer
Another hack for smoother mornings is a hanging daily closet organizer.  With a little bit of pre-planning, lay out clothes and other items in each daily slot.  No more morning indecisiveness.  No more forgotten items.  No more being late.  This 6 shelf hanging organizer can be purchased on Amazon for under $10!
Stick Together
You'll never have lost socks again with this hack for kids (and adults!).  Simply safety pin matching socks together before placing them in the washer and dryer.  They'll stick together like peanut butter and jelly!
Pacify Me
Keep binkies and pacifiers off yucky surfaces by storing them in sauce containers when not in use.  Buy them in bulk on Amazon for a seriously awesome deal!
Everybody Clean Up
Take all the difficulty out of clean up with this handy toy storage mat.  The organizer folds out during play and is pulled together as a drawstring storage bag when you're done.  It makes for some seriously easy, complaint-free clean up!
TP Control
Keep a control on how much toilet paper goes down the john with this clever hack for kids.  Mark a point on the wall for where kids should stop pulling the TP off the roll so they don't rip off a clog-worthy amount.
Drawer Organizer
Take the endless search out of unorganized drawers with this simple hack.  Create little compartments by assembling a cut-down cardboard box inside your drawers.  Each compartment is perfect for little socks, undies, and more.  So long undie chaos!  Find customizable labels for even more excellent organizing from Label Your Stuff.
Mess Free Mallows
Here's a great idea for keeping ice cream cones mess free.  Simply stuff a marshmallow at the bottom of an ice cream cone before scooping in all that frozen goodness.  As the ice cream begins to melt, it will pool inside the cone instead of on hands, shirts, and around the house.
Car Tray
For those busy days on-the-go, cut the chances of spills and mess in your car by using shower caddies as food trays.  Now if someone could come up with a way to get rid of the smell!
For more information about these awesome hacks and products:
Right Foot, Left Foot hack from Smart School House
Image source for Morning Rush Calm hack
Daily Organizer Hanging Shelf sold on Amazon
Stick Together sock hack from LifeHacks.club
Pacifier Storage shared by Cynditha
Saucer Containers sold on Amazon
Toy Storage Mat Organizer found on Amazon
TP Control hack shared by The Virtuous Wife
Drawer Organization hack from The Krazy Koupon Lady
Customizable Labels from Label Your Stuff
Mess Free Mallows hack via One Good Thing By Jillee
Shower Caddy Food Tray found on Lookie What I Did