As a teacher, I hear all sorts of creative excuses from my students about why they can't wear certain winter gear.  Amongst my favorites was that one boy couldn't wear a hat because it would ruin his cowlick.  Right.  Usually it just comes down to my students wanting to go right outside and avoiding having to take the time to layer up.  I've come to learn over the years though which clothes the kids always come back in for… the gear they finally admit (with shivering buns) they just can't go without.  So between my experiences with students and others with my own sons, I feel pretty confident when it comes to knowing the best ways to keep kids warm in the colder weather.  That being said, here are winter essentials for your kids.
Insulated Coat
May seem obvious that you need a coat in winter, but the key here is to make sure you buy a coat your child likes.  Many kids would rather go cold than wear a coat that is a source of embarrassment.  My boys love Burton gear when it comes to outerwear.
Toggle Coat
We've already covered that coats are a big winter essential, but don't underestimate the importance of having a coat that can be worn in a variety of settings.  Out for a fun day with mom, or headed to a holiday party, I absolutely recommend toggle coats as a way to go!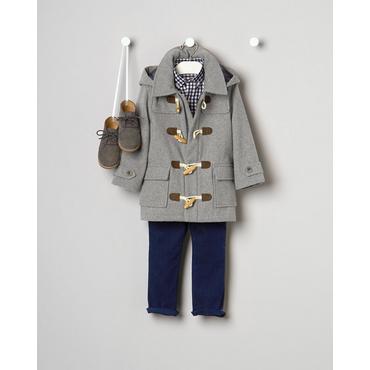 Hightop Sneakers
Having to change your shoes just to go outside for a few minutes is usually too much to ask of children.  But then they come back inside completely soaked to the toes and spend the rest of the day wet and miserable.  The best way I've found to avoid this problem is to buy hightop sneakers that do a much better job keeping the snow out.  Jack and Janie is a personal favorite for finding children's shoes.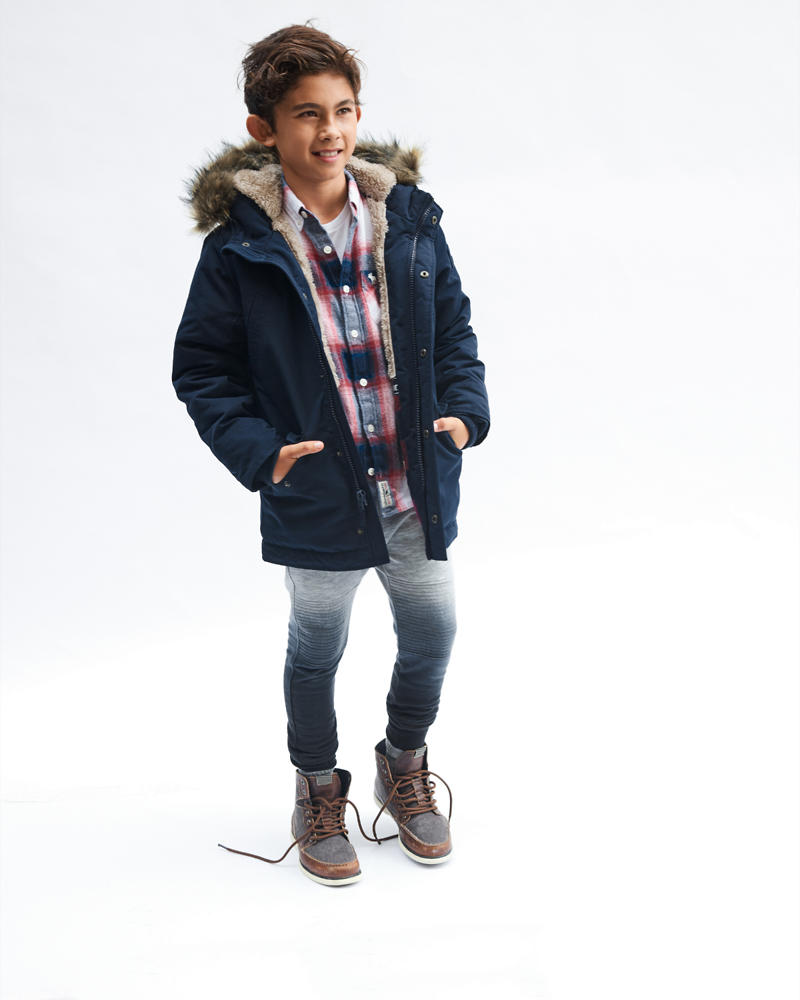 Plaid
I'm dying with how adorable this buffalo plaid shirt is!  When it's time to be inside without wearing the cold of outside, button up plaid shirts are a great way to go!  Image source.
Hats, Gloves, & Scarves
Get a matching pair of mittens and gloves to keep warm AND stylish!  Kohl's often has fun options at just as fun prices.  Marks & Spencer's is one of my favorites.
Shawl Collar Sweater
If your kids resist scarves and turtlenecks as much as mine do, try a shawl collar sweater instead.  It'll protect their neck without feeling quite so stuffy.  This handsome knit sweater with elbow patches can be found at Old Navy for only $25!
Puffer Vests
Another trick to staying warm when you don't plan to head outside is with puffer vests.  The extra padding will keep your little ones insulated for hours!  Image source.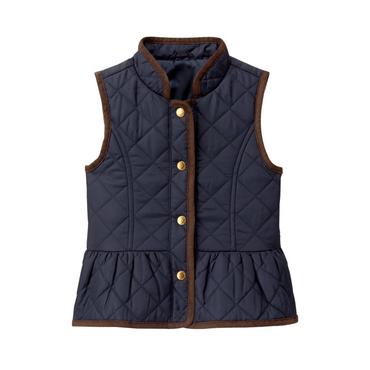 Thick Socks
Thick socks are always a good idea in wintertime.  You might even consider sending your child to school with an extra pair of socks just in case their feet get wet at recess.  Via.